Turn the power switch to "

On".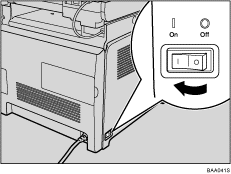 The [Copy] key on the control panel lights up.

Depending on the [Default Mode] setting under [Admin Settings], the [Facsimile] key may light up instead of the [Copy] key.

The machine may make a noise while initializing. This noise does not indicate a malfunction.

To turn off the power, turn the power switch to " Off".