Pull up the lever on the top cover, and then carefully raise the top cover.
Make sure that the exposure glass cover or ADF is closed.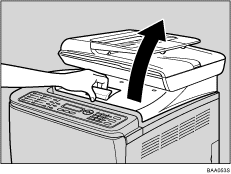 Tilt the print cartridge forward and pull it out.
From the rear, the print cartridges are installed in the order of cyan (C), magenta (M), yellow (Y), and black (K).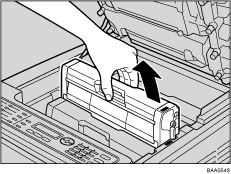 Do not shake the removed print cartridge. Doing so can cause remaining toner to leak.

Place the old print cartridge on paper or similar material to avoid dirtying your workspace.

The toner color is indicated by the label on each print cartridge.

Take the new print cartridge out of the box, and then take it out of the plastic bag.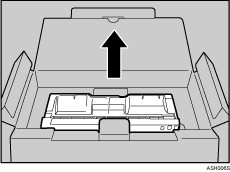 Hold the print cartridge and shake it from side to side five or six times.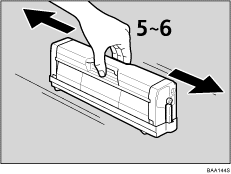 Even distribution of toner within the bottle improves print quality.

Remove the cover from the print cartridge.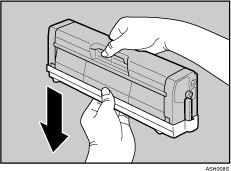 Check that the toner color and location correspond, and carefully insert the print cartridge vertically.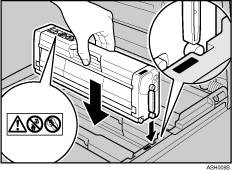 Using both hands, hold the center of the top cover and close the cover carefully. Be careful not to trap your fingers.
After closing the top cover, wait until the initial screen is displayed.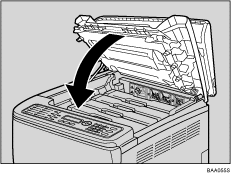 Put the cover that you removed in step

on the old print cartridge. Then, put the old print cartridge into the bag, and then put it into the box.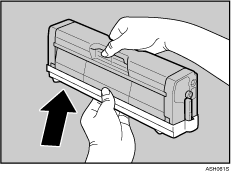 Make sure to cover the old print cartridge with the protective cover for recycling and environmental purposes.

Comply with the print cartridge Recycling Program, whereby used print cartridges are collected for processing. For details, ask your sales or service representative.