Setting Restore
Settings can be restored from a previously created backup file.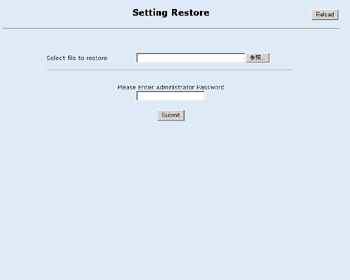 | Item | Description |
| --- | --- |
| Select file to restore | Enter the name of the file to restore, or click [Browse] to select the file. |
Follow the procedure below to restore configuration backup files.

Click [Setting Restore].

Click [Browse].

Navigate to the directory containing the backup file to restore.

Select the backup file, and click [Open].

Enter the administrator password if required.

Click [Submit].